Dissemination and Training of Early Childhood Motion Skill Level Development for PAUD / Kindergarten and Elementary Teachers in Lima Puluh Kota District
Lucy Pratama Putri

Fakultas Ilmu Keolahragaan Universitas Negeri Padang

Ibnu Andli Marta

Fakultas Ilmu Keolahragaan, Universitas Negeri Padang

Oktarifaldi Oktarifaldi

Fakultas Ilmu Keolahragaan, Universitas Negeri Padang

Jonni Jonni

Fakultas Ilmu Keolahragaan, Universitas Negeri Padang

Yulifri Yulifri

Fakultas Ilmu Keolahragaan, Universitas Negeri Padang

Kibadra Kibadra

Fakultas Ilmu Keolahragaan, Universitas Negeri Padang

Ali Asmi

Fakultas Ilmu Keolahragaan, Universitas Negeri Padang

Hasriwandi Nur

Fakultas Ilmu Keolahragaan, Universitas Negeri Padang

Nirwandi Nirwandi

Fakultas Ilmu Keolahragaan, Universitas Negeri Padang

Erizal N

Fakultas Ilmu Keolahragaan, Universitas Negeri Padang

Syahrial Bakhtiar

Fakultas Ilmu Keolahragaan, Universitas Negeri Padang
Keywords:
Dissemination and Training, Motion Skill Level
Abstract
Some of the results of studies that have been conducted on basic early Indonesian fundamental motor skills children, especially in West Sumatra, are found to be at the lowest level. Observations made on several teachers in West Sumatra show that on average they have very limited insight into fundamental motor skills and how to arrange fundamental motor skills. Previous research states that fundamental motor skills cannot develop by themselves, but through continuous learning and training stages. Therefore, PAUD teachers are expected to be skilled in compiling children's fundamental motor skills so that the objectives of early childhood education can be achieved as they should. This service activity aims to: (a) PAUD / TK teachers understand what fundamental motor skills are. (b) PAUD / TK teachers can understand fundamental motor skills. (c) PAUD / TK teachers can understand how to use the TGMD-2 instrument (d) PAUD / TK teachers can understand how to evaluate fundamental motor skills.
References
Ali, A., Pigou, D., Clarke, L., & McLachlan, C. (2017). Literature review on motor skill and physical activity in preschool children in new zealand.
Bakhtiar, Syahrial. 2015. Merancang Pembelajaran Gerak Dasar Anak. Padang; UNP Press.
Bakhtiar, S., Oktarifaldi, O., & Putri, L. P. (2019). Implementation of Learning and Fundamental Motor Skill Measurement of Early Childhood Motor Skill for PAUD Teachers in Padang Panjang City. Jurnal Humanities Pengabdian Kepada Masyarakat, 1(1), 36-47.
Bakhtiar, S., Khairuddin, K., & Yelis, R. (2020). PENGARUH UMPAN BALIK, KOORDINASI TERHADAP KEMAMPUAN OBJEK KONTROL SISWA PAUD KOTA PADANG PANJANG. Sporta Saintika, 5(1), 59-72.
Famelia, R., Goodway, J. D., Bakhtiar, S., & Mardela, R. (2016, June). Investigating the motor competence and physical activity of Indonesian, Muslim preschoolers from urban and rural areas. In journal Of Sport & Exercise Psychology (Vol. 38, pp. S33-S33). 1607 N MARKET ST, PO BOX 5076, CHAMPAIGN, IL 61820-2200 USA: HUMAN KINETICS PUBL INC.
Kokštejn, J., Musálek, M., Šťastný, P., & Golas, A. (2017). Fundamental motor skills of Czech children at the end of the preschool period. Acta Gymnica, 47(4), 193-200.
Korbecki, M., Wawrzyniak, S., & Rokita, A. (2017). Fundamental movement skills of six-to seven-year-old children in the first grade of elementary school: A pilot study. Baltic Journal of Health and Physical Activity. The Journal of Gdansk University of Physical Education and Sport, 9(4).
Oktarifaldi, O., Syahputra, R., & Putri, L. P. (2019). The Effect Of Agility, Coordination and Balance On The Locomotor Ability Of Students Aged 7 To 10 Years. Jurnal Menssana, 4(2), 190-200.
Pope, M. L., Liu, T., & Getchell, N. (2011). Object-control skills in Hispanic preschool children enrolled in head start. Perceptual and Motor Skills, 112(1), 193-200.
Redawati, R., & Asnaldi, A. (2017). Persepsi Guru-Guru Non Penjas terhadap Pembelajaran Pendidikan Jasmani Olahraga Kesehatan dan Rekreasi Gugus IV Sungai Jambu Kecamatan Pariangan. Sport Science, 17(1), 10-18.
Tsapakidou, A., Anastasiadis, T., Zikopoulou, D., & Tsompanaki, E. (2014). Comparison of locomotor movement skills in 8-9 years old children coming from two areas of Thessaloniki with contrasting socioeconomic status. Asian Journal of Humanities and Social Studies (ISSN: 2321–2799), 2(01).
Ulrich, D. A. (2000) The Test of Gross Motor Development (Second ed). Austin: TX Pro-ed
Zipporah, M., Kadenyi, M., & Maithya, P. (2016). Influence Of Teacher Related Factors On The Implementation Of Physical Education Syllabus In Public Primary Schools In Manga Sub County, Kenya.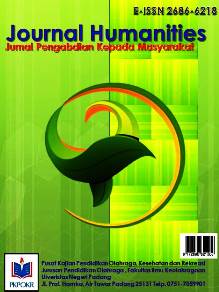 How to Cite
Putri, L., Marta, I., Oktarifaldi, O., Jonni, J., Yulifri, Y., Kibadra, K., Asmi, A., Nur, H., Nirwandi, N., N, E., & Bakhtiar, S. (2020). Dissemination and Training of Early Childhood Motion Skill Level Development for PAUD / Kindergarten and Elementary Teachers in Lima Puluh Kota District. Jurnal Humanities Pengabdian Kepada Masyarakat, 1(1), 58-67. https://doi.org/10.24036/jha.0102.2019.06
Copyright (c) 2020 Journal Humanities : Jurnal Pengabdian Kepada Masyarakat
This work is licensed under a Creative Commons Attribution-ShareAlike 4.0 International License.
Hak dan Lisensi Penulis, Klik
disini
Informasi Selanjutnya