Supervision Extension Of Learning Primary Physical Education Pandemic During Covid-19
Yudha Munajat Saputra

Universitas Pendidikan indonesia

Muhammad Nur Alif

Kampus Daerah Sumedang, Universitas Pendidikan Indonesia, Indonesia
Keywords:
Supervision, Covid-19, Physical Education
Abstract
The Covid-19 pandemic requires all parties to adapt to an unprecedented situation. The learning process which is usually carried out face-to-face today is very difficult because the pandemic has not subsided. Meanwhile, the quality of learning must be maintained for the sake of creating a generation that is ready to face the challenges of life in the future. Therefore, there is a need for supervision counseling carried out during this pandemic. Counseling is carried out so that teachers can prepare what items they have to do for the learning process that must continue during the covid-19 pandemic. With the presence of modern technology today that reaches all aspects of life, including the supervision of teachers, many are being developed through a touch of technology. One of them is the supervision of the learning system used by the teacher for virtual-based students. The aim is to analyze needs by referring to the supervisor's perception of the need for the development of a virtual-based supervision model that will be developed during the covid-19 pandemic. The development of this supervision model is needed because it is considered that currently supervision has not run optimally and effectively. Therefore, prior to the development of the supervision model, the authors conducted an analysis of these needs.
References
Abin Syamsudin M., (2000), Pengembangan Profesi dan Kinerja Tenaga Kependidikan: Pedoman dan Intisari Perkuliahan, Bandung: PPS-UPI.Alfonso, R.J. Firth, G.R, dan Neville,R.F. (1981). Instructional Supervision: A Behavour System. Boston: Allyn and Bacon, Inc.
Arikunto, Suharsimi. (2005). Manajemen Penelitian. Edisi Revisi. Jakarta: PT. Rineka Cipta. Belkaoui, Ahmed. (1988). Handbook of Management Control System. New York: Quorum Books.
Bogdan, R.C dan Biklen, S.K. (1982). Qualitative Research for Education: An Introduction to Theory and Methods. Boston, Massachussets: Allyn and Bacon, Inc.
Borko, H., & Mayfield, V. (1995). The roles of the cooperating teacher and university supervisor in learning to teach. Teaching and Teacher Education. https://doi.org/10.1016/0742- 051X(95)00008-8
Daryanto. (2008). Evaluasi Pendidikan. Jakarta: Rineka Cipta.
Levine, T. H. (2011). Features and strategies of supervisor professional community as a means of improving the supervision of preservice teachers. Teaching and Teacher Education, 27(5), 930–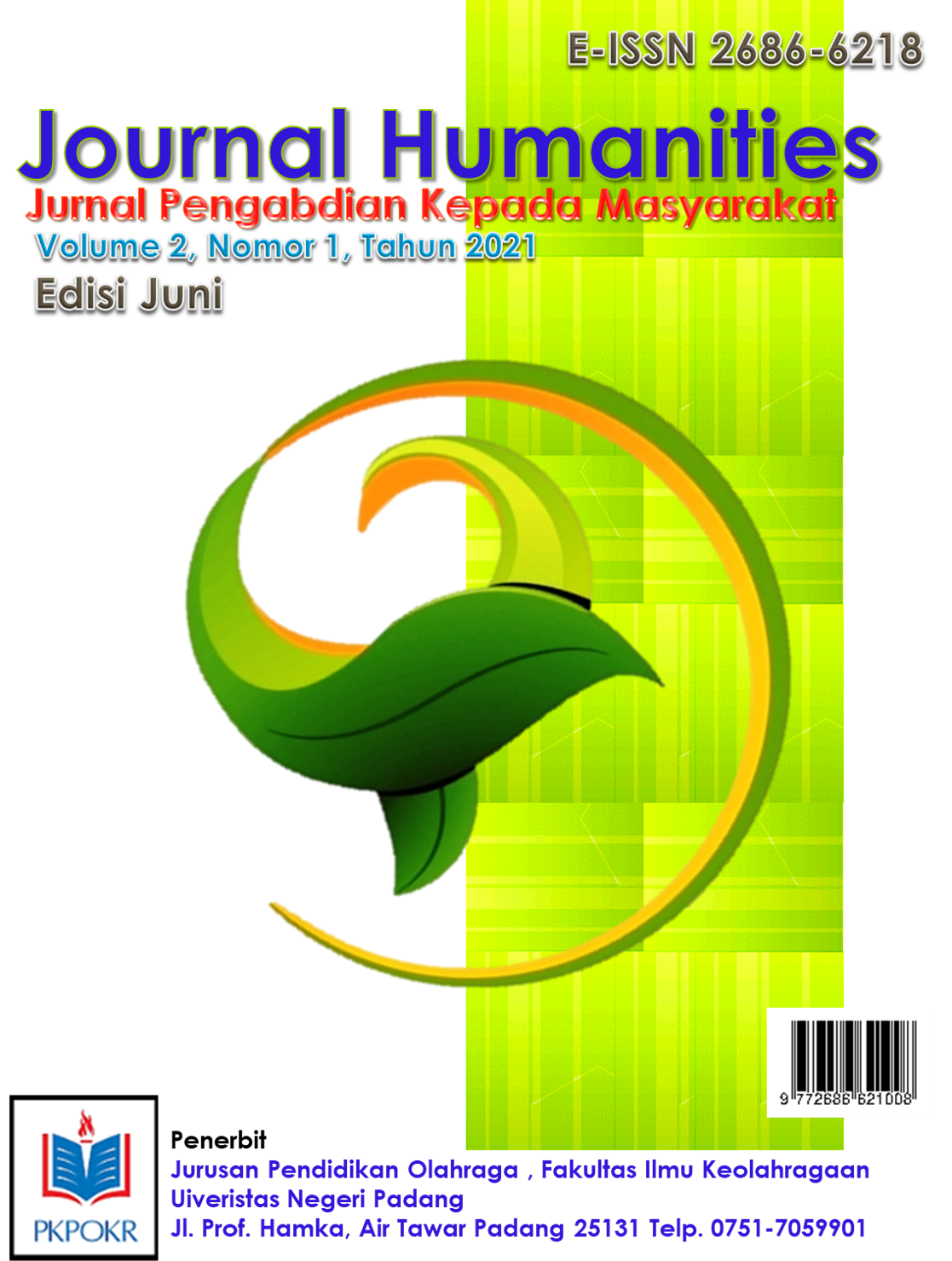 How to Cite
Saputra, Y., & Alif, M. (2021). Supervision Extension Of Learning Primary Physical Education Pandemic During Covid-19. Jurnal Humanities Pengabdian Kepada Masyarakat, 2(1), 19-23. https://doi.org/10.24036/jha.0201.2021.04
Copyright (c) 2021 Journal Humanities : Jurnal Pengabdian Kepada Masyarakat
This work is licensed under a Creative Commons Attribution-ShareAlike 4.0 International License.
Hak dan Lisensi Penulis, Klik
disini
Informasi Selanjutnya