Training On Making Perfomed Herbs Jahe Instant In The Village Of Banda Buek The City Of Padang
PELATIHAN PEMBUATAN SEDIAN HERBAL JAHE SERBUK INSTAN DI KELURAHAN BANDA BUEK KOTA PADANG
Keywords:
Training, Herbal, Ginger, Instant
Abstract
Medicinal herb is known as "herbal medicine". Based on the observations that have been made, the community in each house in the village of Bnadar Buat has plants that can be categorized as medicinal plants. They know what plants are used as medicine but the utilization is not optimal because of the lack of knowledge of the public on how to use medicinal plants as traditional medicine appropriately and correctly and how to process them into high economic value products, one of which is the herbal preparation of instant ginger powder. To overcome this, it is necessary to provide information and knowledge as well as training on the preparation of instant ginger powder herbs of high economic value. Before carrying out the activities of the PKM team conducted a socialization stage by inviting PKK mothers in bandar Buat village. This devotional activity uses a way of giving material through lectures, then continued with direct practice by pkk mothers. All participants were involved and each group did its own division of work within the group. From this activity resulted in increased knowledge of PKK mothers about medicinal plants as well as the instigated preparation of instant ginger powder herbs of economic value.
References
Made, N., Yunica, D., Gde, I. K., Purwantara, T., & Maryam, S. (2020). Diversifikasi Produk Jamu Serbuk Instan Dari Herbal Usadha Bali. Proceeding Senadimas Undiksha, 14–19.
Sepriani, R.-, Eldawaty, E., Asnaldi, A., Wahyuri, A. S., & Kibadra, K. (2020). Pembuatan Jamu Serbuk Instan Berbasis Tanaman Obat Keluarga (Toga) Bagi Ibu-Ibu Pkk Di Kelurahan Tarantang Kecamatan Lubuk Kilangan Kota Padang. Jurnal Berkarya Pengabdian Masyarakat, 2(1), 49–55. https://doi.org/10.24036/jba.v2i1.51
Sepriani, R. (2018). PENGETAHUAN DAN PEMANFAATAN TANAMAN OBAT KELUARGA (TOGA) DI KELURAHAN BANDAR BUAT KECAMATAN LUBUK KILANGAN KOTA PADANG. Stamina, 1(1), 279–288.
Shofiah, M. A. (2011). Proses Pembuatan Jamu Serbuk Dari Rimpang Jahe di PJ. Bisma Sehat. Digilib UNS.
Supardi S, S. A. (2010). Penggunaan obat tradisional dalam upaya pengobatan sendiri di Indonesia (Analisis Data Susenas 2007). Buletin Penelitian Kesehatan, 38(2).
Tukiman. (2004). Pemanfaatan Tanaman Obat Keluarga (TOGA) Untuk Kesehatan Keluarga. Bagian Pendidikan Kesehatan dan Ilmu Perilaku Fakultas Kesehatan Masyarakat Universitas Sumatera Utara. USU: Digital Library.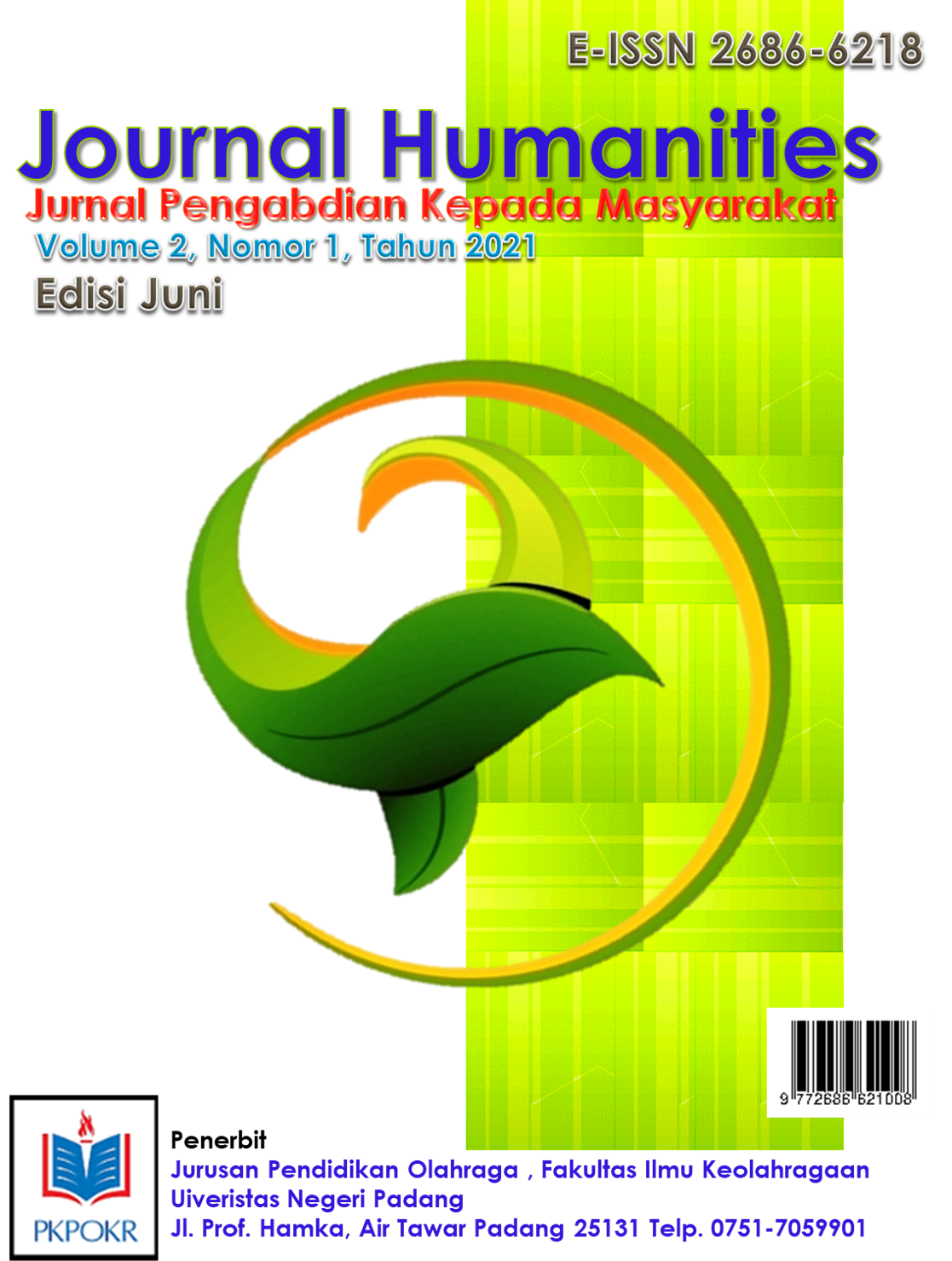 How to Cite
Sepriani, R. (2021). Training On Making Perfomed Herbs Jahe Instant In The Village Of Banda Buek The City Of Padang. Jurnal Humanities Pengabdian Kepada Masyarakat, 2(1), 24-32. https://doi.org/10.24036/jha.0201.2021.05
Copyright (c) 2021 Journal Humanities : Jurnal Pengabdian Kepada Masyarakat
This work is licensed under a Creative Commons Attribution-ShareAlike 4.0 International License.
Hak dan Lisensi Penulis, Klik
disini
Informasi Selanjutnya